Children's Hospital Los Angeles
Center for endocrinology, diabetes & metabolism
The Sugar Ray Leonard Foundation is honored to support the Center for Endocrinology, Diabetes and Metabolism at Children's Hospital Los Angeles for their groundbreaking work in diabetes care and research.
As one of the largest endocrine programs in the country, the Center is pioneering pediatric care, clinical and basic research programs in all types of diabetes, as well as disorders of human growth, bone metabolism, thyroid issues and adrenal disease. The Center provides comprehensive, state-of-the-art, interdisciplinary care, education and training to nearly 1,800 children with type 1 and type 2 diabetes and more than 4,600 patients with other endocrine disorders each year.
Their work incorporates clinical care for insulin-dependent diabetes patients and offers the EMPOWER Weight Management Clinic to prevent the onset of diabetes in overweight and obese children. Clinical expertise is also offered to the community through Kids N Fitness© and Camp Heal, outreach programs that involve the entire family in weight management and healthy lifestyle choices. The Center provides weekly Teen Power support groups for insulin-dependent children and teens, their families and siblings. In the research arena, the Center has participated in the nationwide TrialNet study since 2001 to better understand the progression of insulin-dependent diabetes and develop therapies to prevent its onset. Researchers at Children's Hospital are also conducting an investigation into reprogramming intestinal stem cells to produce insulin.
Through our philanthropic partnership, we have collaborated on many important initiatives. Highlights from 2014-15 include:
Teen Power
Teen Power is an interdisciplinary intervention providing psychological support and skills-based learning for groups for adolescents ages 12-18 years with insulin-treated diabetes. Group sessions are also available for the teens' caregivers and siblings. Caregiver meetings are conducted in English and Spanish.

Topics specifically address the emotional and behavioral barriers to optimal diabetes care such as communication, stress, depression, and diabetes burn-out. Dinner is provided which allows us to help with communications between teens and caregivers around the issue of food. We work with teens and families to develop/set goals for diabetes management behaviors and to promote effective adherence to these behaviors.

In 2016, funding from the Sugar Ray Leonard Foundation helped expand Teen Power's impact by sponsoring three new groups on CHLA's main campus or patients and families covered by commercial insurance. Two groups have been held to date, one starting in April and the other starting in July. Eleven teens with diabetes, joined by their parents and siblings, participated.

The many benefits teens and their families receive through Teen Power are evident by their direct expressions of thanks:

"Just a quick note to say how grateful I am for the work that you do. Teen Power was so great last night [My Son] said quietly to me when we got home, 'Thank you for taking me there, Dad'. I haven't pressed him on his experience, but he volunteered that he learned some really helpful things, and he seemed buoyed as we left. You will see us every week. Thank you."

"Thank you for such a great experience with the Teen Power group. All the kids, parents and leaders contributed to this experience in such a positive way. I feel [my daughter] has a better understanding and has taken steps to acknowledge her diabetes issues. Please keep us informed about any future Teen Power groups."

"I want to especially thank you for the past 10 weeks and I want to express how much I gained from our group meetings."
Kids N Fitness and KNF Junior
The Sugar Ray Leonard Foundation has supported the programs' coordinators and instructors who lead a six-week course that focuses on nutrition education, physical activity and goal-setting for overweight children. Parents and guardians are also motivated to help their children by attending separate support groups during class time.

Since January 2013, 139 children ages 8 to 16 have participated in KNF and 56 children ages 3 to 7 have signed up for KNF Jr.

During a visit to the hospital, Sugar Ray filmed an informational video about "going toe-to-toe" with diabetes. It was posted on CHLA's Facebook page and has been viewed more than 3,200 times.
HEAL Initiative
In November 2014, the Sugar Ray Leonard Foundation helped the Center mark the one-year anniversary of the HEAL (Healthy Environments and Active Living) Initiative. The community-based project, which incorporates the KNF curriculum, was launched through a partnership with the New Mount Calvary Missionary Baptist Church. Speaking to a packed congregation at the South Los Angeles church, Sugar Ray spoke about the importance of healthy eating, exercise, and setting and reaching goals. By helping to deliver a positive message of fitness and well-being, our impact has been directional and motivational, inspiring children of all ages to set and reach their health goals.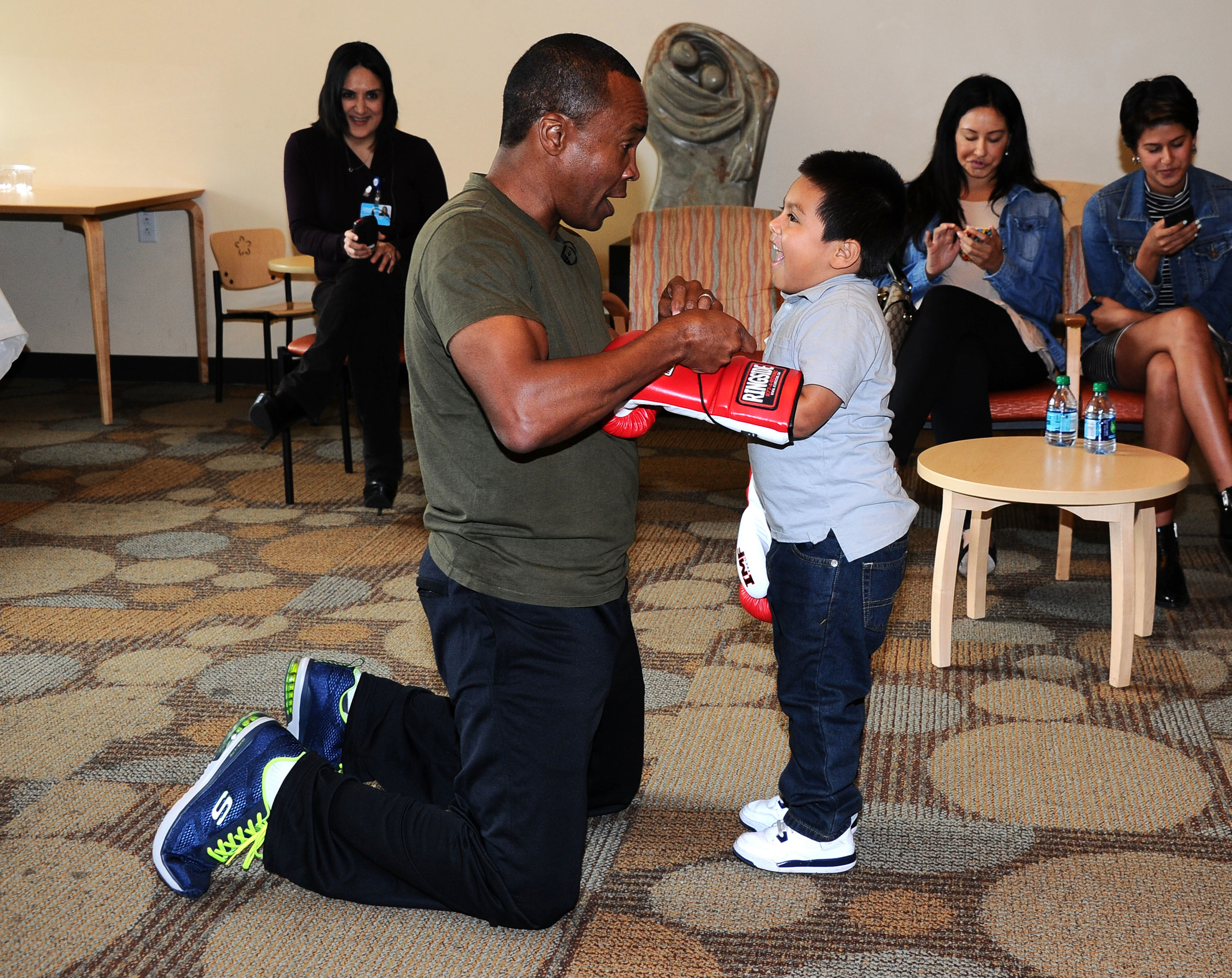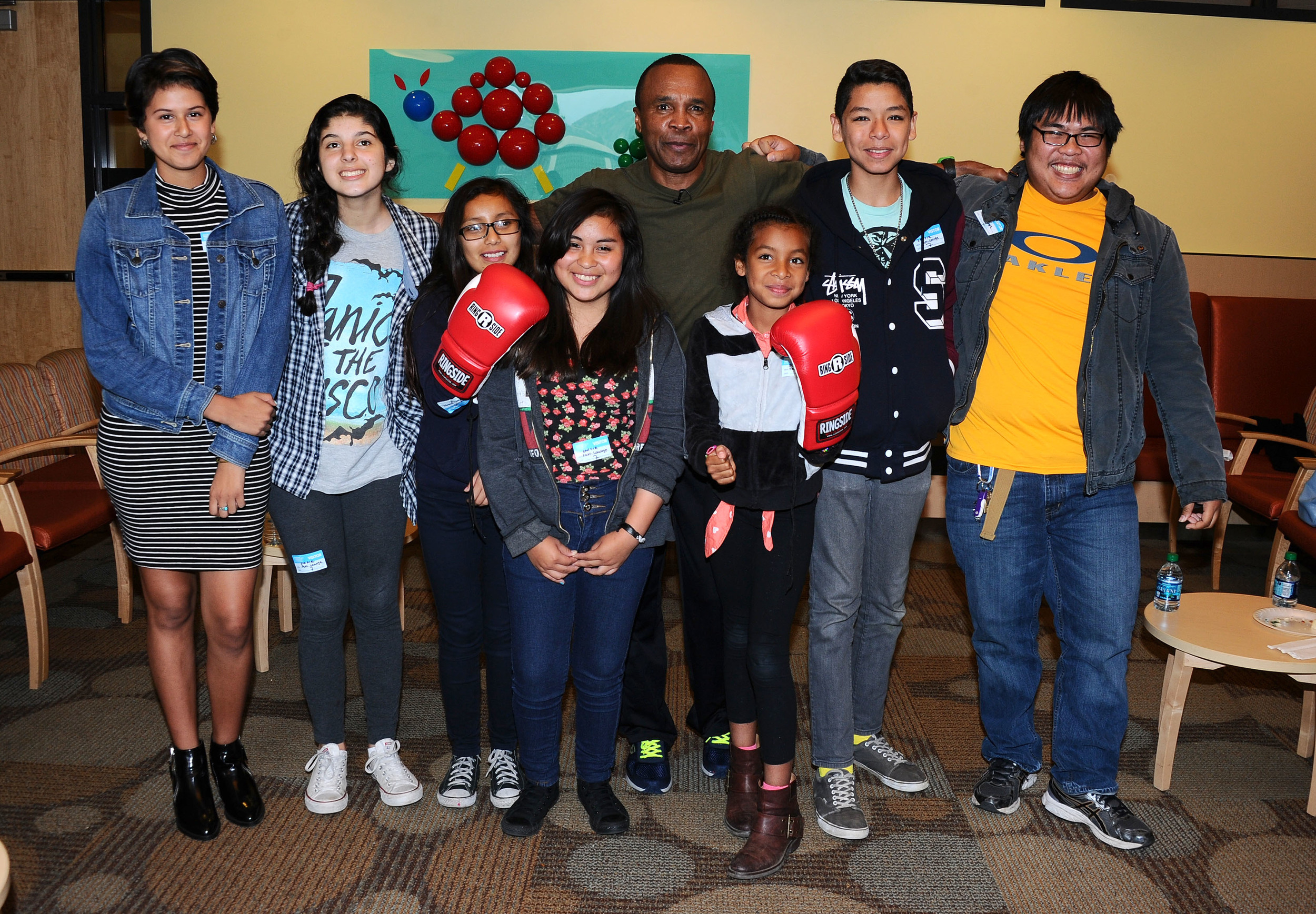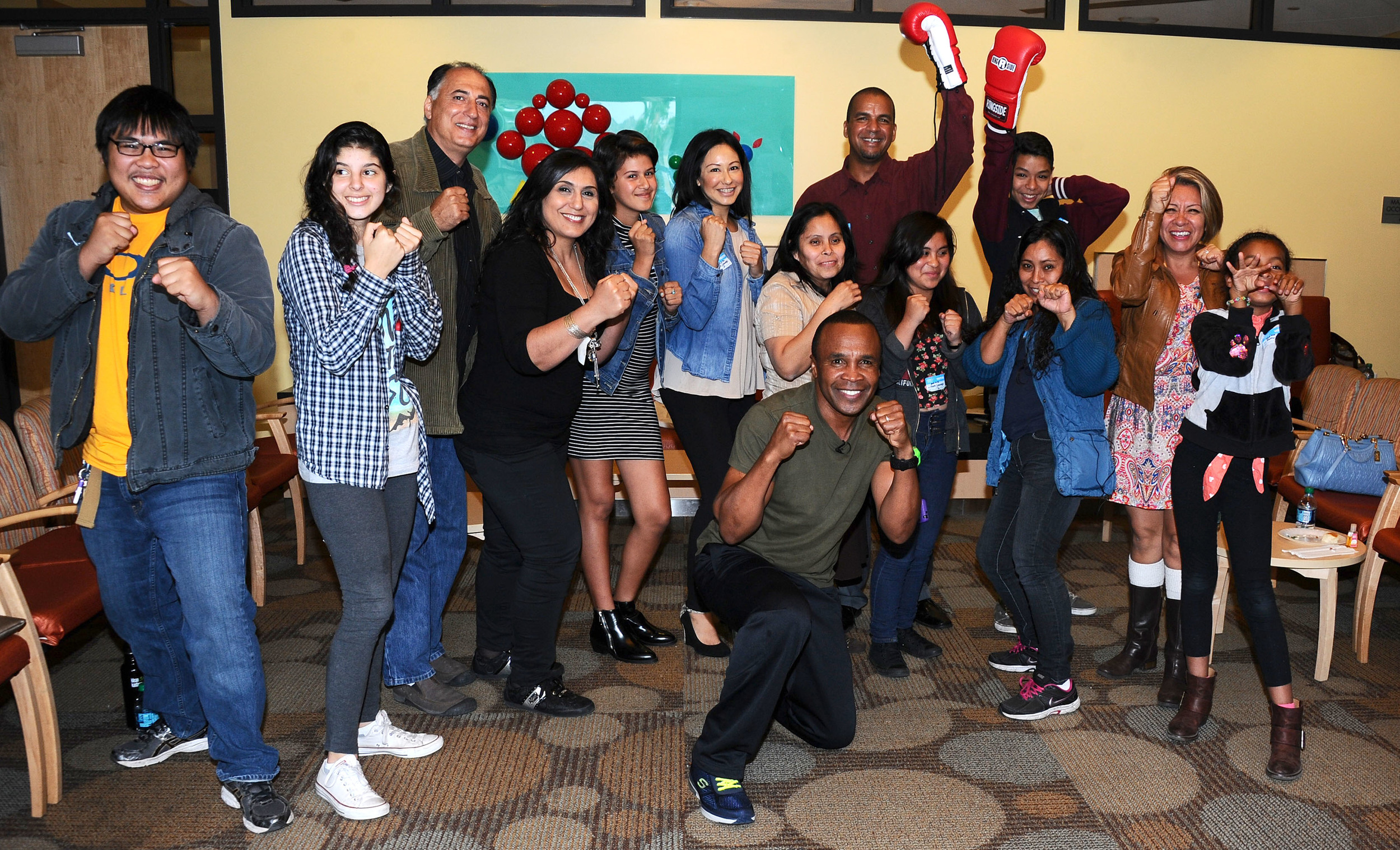 More About Kids N Fitness©
Kids N Fitness© is an evidence-based, six-week weight management and healthy lifestyle program for overweight and obese children and their parents. The program was developed in 2000 by a multidisciplinary team from Children's Hospital Los Angeles that included pediatric endocrinologists, dieticians, physical and occupational therapists, and social workers. The 1.5 hour weekly class consists of interactive nutrition education, physical activity and parent seminars. Kids N Fitness© is offered at CHLA and in low income community settings.
In 2009, The Sugar Ray Leonard Foundation began supporting Children's Hospital Los Angeles and their Center for Endocrinology, Diabetes, & Metabolism. Because of the link between exercise, healthy diet and controlling Type 1 Diabetes and preventing Type 2, Sugar Ray Leonard was instantly drawn to this program. Leonard is passionate about health and fitness and hopes that he can inspire kids to lead healthier more productive lives through diet and exercise.
The Need
Currently over one third of our nation's children and adolescents are clinically overweight or obese and nearly one third of low income preschool children ages 2-4 are overweight or obese. In 2003 the CDC Director Dr. Julie Gerberding stated that "…obesity is the number one health threat in the United States". Obesity is also responsible for more than $190 billion in annual direct health care expenditures. Obesity is a multifaceted problem stemming from an imbalance in a complex regulatory system, and is affected by genetic, behavioral and environmental factors including social cues, easy access to inexpensive, high calorie food and drink (often of low nutritional quality), and lack of access to high quality food and opportunities to be physically active.
CHLA has found that Kids N Fitness© is especially effective when offered in a community setting such as churches, in local after-school programs, in schools, summer camps, and in community clinics. Their goal for the next 3 years is to train community educators and expand Kids N Fitness in South and East Los Angeles to make it accessible to families in greatest need.
Program Goals
Prevent and reduce the complications stemming from childhood obesity

Promote healthier eating habits, more frequent exercise, and a reduction in the behaviors that encourage weight gain

Provide support and motivation for families and provide them with the tools necessary to make better lifestyle choices that are sustainable
The Children's Hospital staff is experienced in providing engaging lessons for the entire family. Families that participate in the program can look forward to:
Physical exercise classes

Interactive nutrition lessons

Understanding food labels

Healthy goal setting

Personalized feedback

Grocery store tour

A support system to guide behavior change

Healthy cooking tips

Fun weekly incentives
About Children's Hospital Los Angeles
Founded in 1901, Children's Hospital Los Angeles is the oldest freestanding children's hospital in California. CHLA ranks among the top five in the nation on the U.S. News & World Report Honor Roll of children's hospitals; it is one of only 10 children's hospitals in the nation, and the only one on the West Coast, to make the prestigious list. The Hospital provides more than $221.4 million annually in community benefits to the children and families of Los Angeles.
The Center for Endocrinology, Diabetes and Metabolism at CHLA is at the forefront of patient care and research in diabetes, obesity, growth, bone, metabolism and endocrinology. It provides care to nearly 1950 children with diabetes and 5,100 children with other endocrine disorders.